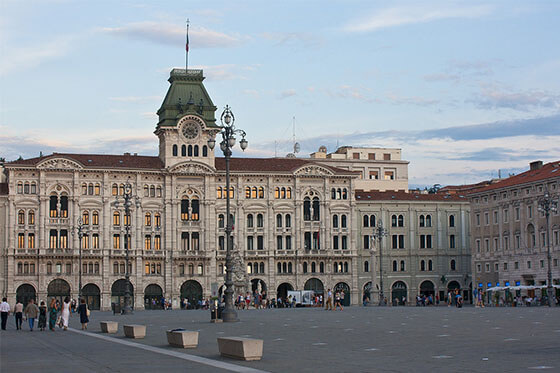 Trieste
Trieste is located on the internal part of the homonym Gulf.
The town spreads out as an amphitheater along the sea under the Carso slopes, into a magnificent landscape. The town was founded by Romans a long time ago and was named Tergeste.
The Austrian Government built a free port in 1719, together with nautical school and a commercial exchange. Due to its economic potential, the Austrian Government tripled the population in the space of sixty years and the town was enriched with beautiful buildings. That period was the most prosperous. The town had autonomy from 1850 until the end of the First World War. It was taken over by Italy in 1918 and as a result of 1943 armistice the town suffered severe bombardments from the Allies. In May 1945 was taken by the Yugoslav army, until, after many vicissitudes finally returned to Italy in 1954.
We recommend to all those who want to see Trieste, to visit the spectacular Miramare Castle and the Giant Cave.
The castle stands on a spur of rock that juts out into the sea. It was started in 1856 at the behest of Archduke Ferdinand Maximilian of Hapsburg, Emperor Franz Joseph's younger brother, and in 1860 finished. Among the very few examples of a noble mansionpreserved without traumatic changes or revisions, the Castle has intact, in its furnishings and decorations in an eclectic style, the charm of living in mid-nineteenth century, in a place that connects the Mediterranean with the suggestion of the atmosphere oftypically northern forms.
The Giant Cave is considered the biggest cave in the world registered in the Book of Records in 1995. It is located in Trieste in the touristic area of Borgo Grotta Gigante. Its height is of 12 meters and thanks through a series of steps leads you up on the bottom, where it is placed the greatest regional seismograph for the study of relief and seismic phenomena.
Follow the path to reach Trieste from our Hotel