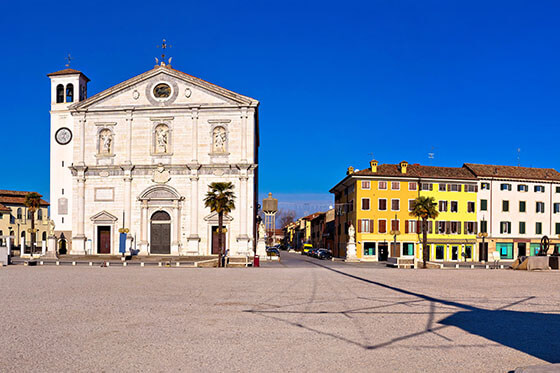 Palmanova
A beautiful and important center situated 20 km South-East from Udine.
The characteristics of Palmanova is its plan, which conserves its original Renaissance topography, a typical fortress town with the shape of a 9 edges star. The town was built by the Venetians in 1953 following the battle from Lepanto, and to protect themselves both from Turks attacks and of Austria's targets that followed afterwards.
The visitors eyes are stricken when enter into the town by the density and grandeur of the walls and of the last undamaged bastions. The main monument in Palmanova is the Dome which contains very precious objects and of undoubted historical–artistic value.
The Civic Museum has important documents related to fortress history as well as weapons from XVI–XX century. Another reference museum is the historical–military museum.
Follow the path to reach Palmanova from our Hotel